Take A Look Inside Balenciaga's New London Flagship Store
Late last year, Demna penned his vision for a new era of Balenciaga, specifically shifting its retail spaces to become brutalist works of art that double as a shop. Now, the luxury house has opened the doors to its new London flagship, situated on the famous New Bond Street.
Following in the footsteps of Balenciaga's "Raw Architecture" concept, the new store is designed to "instill a sense of temporality and permanence in the present experience." The result is a store that's deliberately unfinished in design, with excavated areas shown behind glass and concrete dominating the space.
However, the "Raw Architecture" doesn't feel cold. Floor-to-ceiling windows are met with stainless steel — notably on the front where a thick metal door can be found on the corner of New Bond Street and Conduit Street wearing the brand's moniker — while the industrial lighting system inspired by explosion-proof lamps offers a warm yet simultaneously clinical glow inside.
Fixtures and ceiling fittings are left exposed, as is an old staircase and an empty elevator shaft, with cracked concrete, oxidized steel, distressed textiles, stabilized dirt, mud-like encrustations, polished aluminum racks, smooth display vitrines, and integrated LED screens coming together to present Balenciaga's latest goods in a post-apocalyptic atmosphere.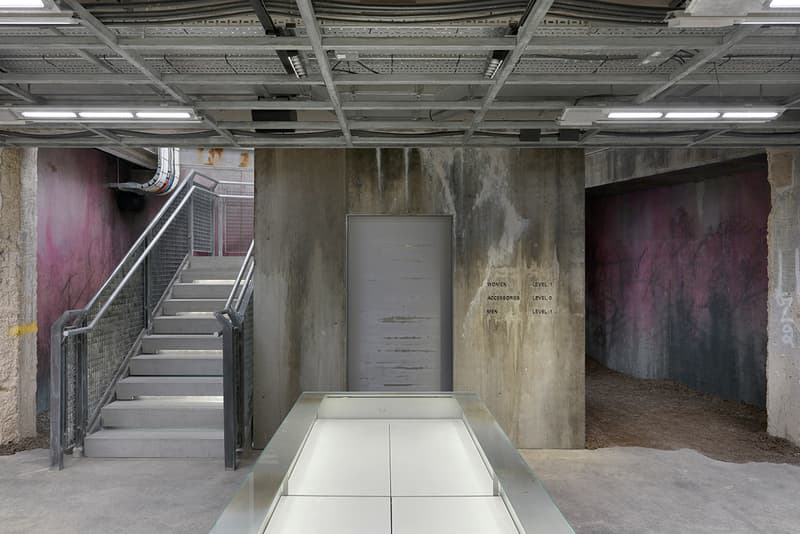 Spanning three floors and measuring over 710 square meters, the new space houses women's and men's ready-to-wear, shoes, bags, accessories, eyewear, jewelry, and objects, as well as a closer look at the recent Balenciaga Winter 2022 "360°" collection.
Take a look at the store in the gallery above, and head over to the space IRL now.
In other news, Byredo has launched a new fragrance that celebrates life.
Balenciaga
24/25, New Bond Street
London
W1S 2RN
United Kingdom
For more on FASHION, follow us on Instagram @fashionpivot | Twitter: @fashionpivott | Facebook: Fashio0npivott|
If you have a story or suggestion, Email: info@fashionpivot.com
Leave your views in the comment box below
Search Article